Your Experienced South Texas Law Firm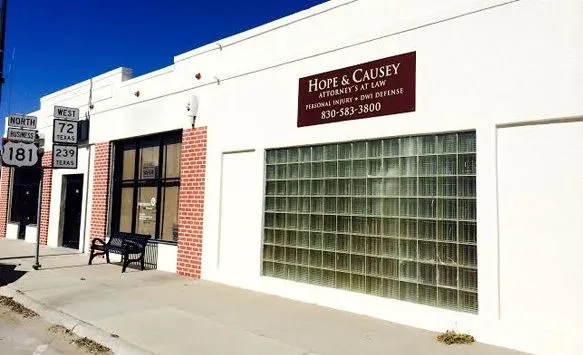 Kenedy Office
224 West Main Street Suite 200
Kenedy, Texas 78119
Phone: 830-583-3800
Fax: 830-583-3804
Hope & Causey, P.C. takes pride in representing our fellow Texans in and around Kenedy and Karnes City, Texas. With the oil boom resulting from the latest deep shale reservoirs found in the Eagle Ford Shale, many of our local small towns have experienced rapid growth, both financially and in population. With this growth comes an increase in the necessity of providing competent and aggressive legal representation to the citizens of these towns.Although this growth in production can be a good thing economically, we will have friends, neighbors, and family members who are negatively affected by this growth. We have seen and experienced a high increase in the amount of traffic flowing through and around our towns. As a result, we have seen an increase in the number of car accidents, trucking accidents, and 18 wheeler accidents causing serious bodily injury and wrongful death to our friends and loved ones. This is why Hope & Causey, P.C. maintains an office right on Main Street in downtown Kenedy, Texas. It is our goal at Hope & Causey, P.C. to provide easy access to the best legal representation available for our fellow south Texans. We believe that in order to help the members of a community, you need to be a part of that community. This is why we strive every day to be active members of the communities we serve. We hope that you take the time to give us a call or stop by our offices for a free consultation and to meet our lawyers. We are conveniently located at 224 W. Main Street #200 in downtown Kenedy, Texas.
We take pride in serving our clients in and around the following areas:
Beeville
Cuero
Floresville
George West/Three Rivers
Goliad

Gonzalez
Kenedy
Karnes City
Pleasanton
Tilden
Please call 830-583-3800 to schedule a free consultation and meet with us today:
You can also leave a message for us online here.